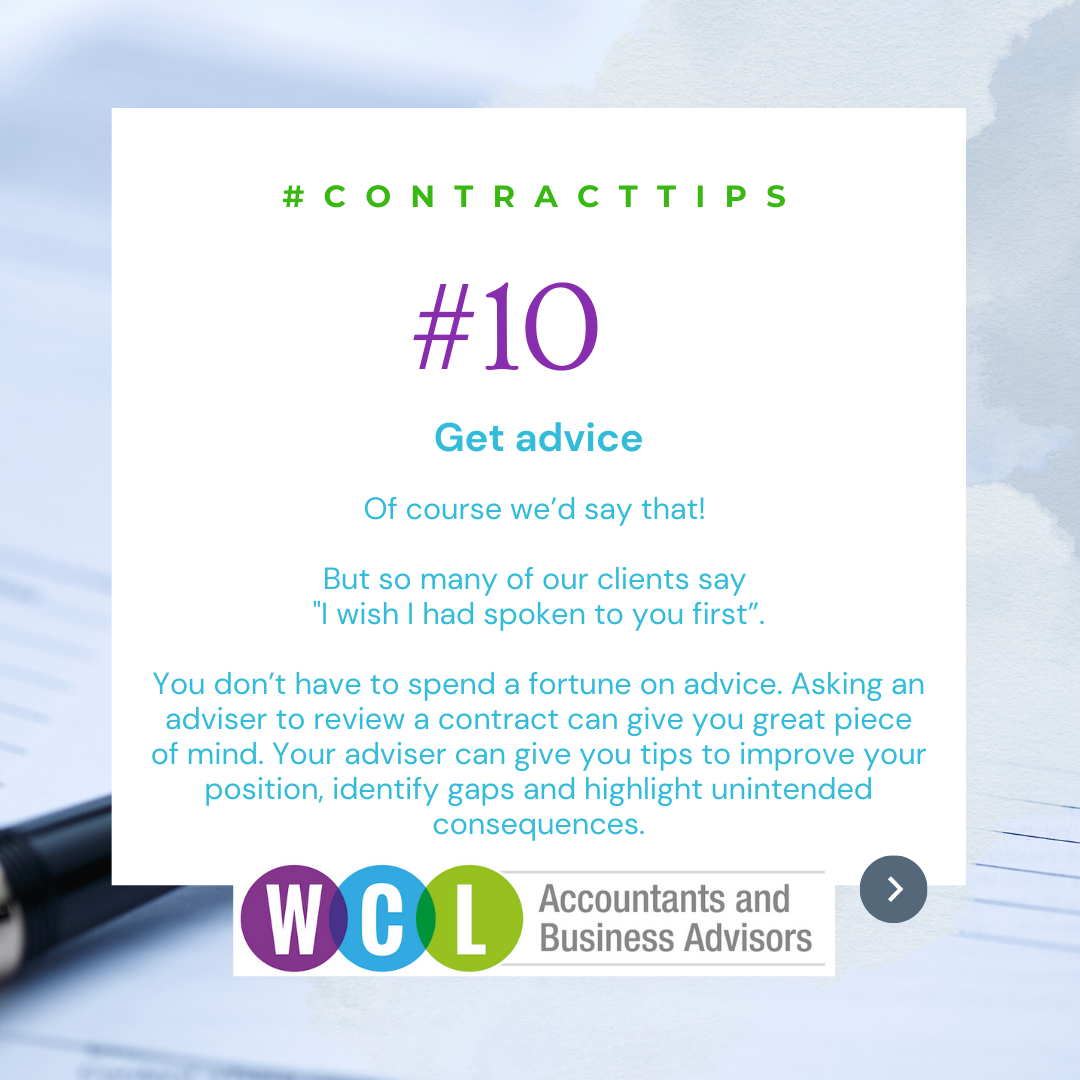 Our Top 10 Contract Tips (Part 2)
We have continued to share our series of Top 10 Contract Tips on our social media channels over the summer.
Here's Part 2 of our Contract Tips blog with tips #6-10:
#6 TURN YOUR CONTRACT INTO AN ASSET
As well as protecting your business and managing risk, a contract can also be an asset.
A well-defined contract positions your business as a professional organisation and sets out how you work.
Creating a scope of work can also highlight gaps in what the client requires which in itself can present an opportunity to up-sell additional services.
#7 GET IT SIGNED
How annoying would it be for your client to say they are not subject to the contract because they have never seen it?
Ensure your client is sent a copy of the terms or is at least advised where to find them. Then, ensure they agree to the terms.
The most obvious way is for all parties to sign and date the terms. If this is not practicable, ensure the terms are somehow acknowledged and the acceptance is received in writing, such as an email.
#8 DON'T LOSE THE LEGALESE
Contracts should always be written in clear language, the days of latin phrases are gone!
However, contracts still need standard clauses containing legalese to enable them to work, for example an entire agreement clause, a jurisdiction clause or variation clause. So, before you get the red pen out, just check what the implication of removing that particular clause might mean.
#9 ALWAYS REVIEW & NEGOTIATE IF POSSIBLE
If you are presented with terms or a contract, don't just sign them reliant on the basis they will be a fair reflection of the commercial relationship.
Documents drafted for a particular party will always be favourable to them. Take the time to review the documents to avoid over exposure in terms of liability, indemnities and other unintended scenarios.
#10 GET ADVICE      
Of course we'd say that! But so many of our clients say "I wish I had spoken to you first".
You don't have to spend a fortune on advice. Asking an adviser to review a contract can give you great piece of mind.
Your adviser can give you tips to improve your position, identify gaps and highlight unintended consequences.
Contracts are an invaluable business tool. If you need advice, please get in touch.
Or if you enjoyed this series, remember to follow us on social media for more tips coming soon. Find us in Linkedin, Twitter and Facebook.