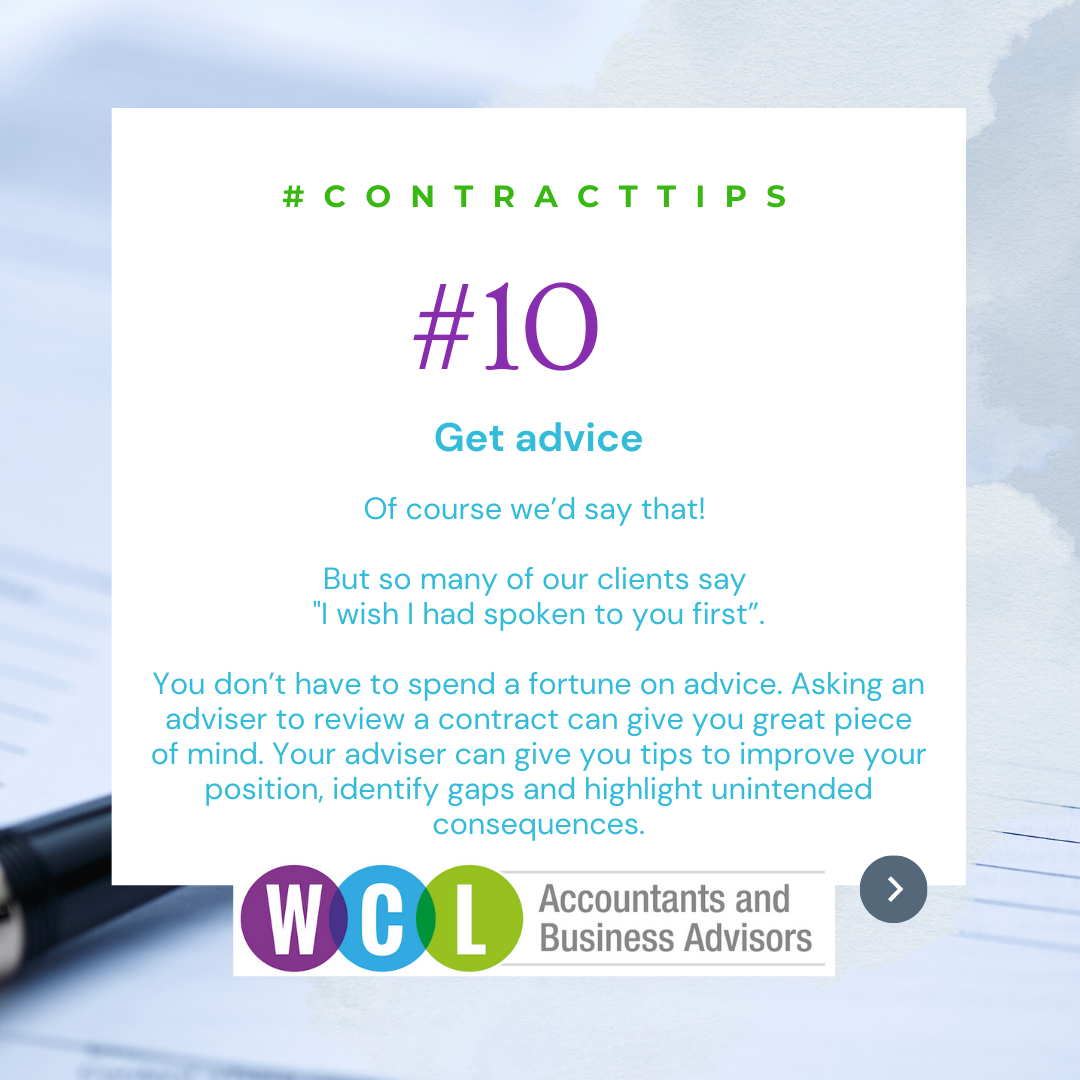 Our Top 10 Contract Tips – Part 1
Over the past few weeks, we've been sharing our best contract tips via our social media channels.
For most small businesses, employing an in-house legal counsel is not an option, but our outsourced business law service could be the perfect fit. If you'd like to follow our series of tips, you can follow us on Linkedin, Twitter or Facebook.
Bur for now, our latest blog summarises our first 5 tips. Keep following us in social media for the next 5.
#1 WHY HAVE A CONTRACT?
A contract sets out the relationship between the two (or more) parties creating legal obligations for them to perform. By providing clarity, it can help avoid unnecessary litigation and prevent misunderstandings.
If the contract is clear on the scope of work, what will be performed and by when, it allows the parties to have discussions over issues that arise before launching into costly court cases.
#2 GET IT IN WRITING!
Contracts can be either verbally agreed or in writing. Yes, agreements can be made on the back of a handshake, but if it goes wrong and you end up in court, it could prove difficult to resolve.
As a bare minimum, get the parties intentions written down for clarity, in an email for example, and ensure all parties respond and agree. Although not perfect it shows the parties intentions and the basis of a contract.
#3 UNDERSTAND YOUR CONTRACT
You've had your contract professionally written and it is absolutely watertight! Now you need to understand what it covers. Why? Because it makes you look professional to both your customers and suppliers.
If you can talk them through the pertinent points in the contract or be able to explain why a clause is worded in a particular way, they are more likely to understand and accept your terms.
Finally, if it ever goes wrong, you know immediately which clauses are important to invoke and deal with any dispute resolution process.
#4 CHECK WHO YOU ARE CONTRACTING WITH
Have you entered into the contract with the right person? Double check the full name of their business. Is it just Joe Bloggs or is it Joe Bloggs Limited t/a Fabulous Windows?
Without the correct name in the contract, when it comes to trying to enforce it, particularly if you don't get paid, you are unlikely to succeed in your claim.
#5 ALWAYS REVIEW
Even with a contract in place, don't forget to review regularly.
Work can easily creep outside of the original scope. Don't be afraid to update and amend the contract to reflect the "new" scope of works. Keep clear records of the changes made. It enables both parties to remain clear on their responsibilities and ultimately helps protect all concerned.
Contracts are an invaluable business tool. If you need advice, please get in touch.